Mike and Sally Vonderscher
Relocation Buyer from New Jersey
Kevin was a delight to work with and a professional throughout all phases of our home search. He was wonderful listener and helped us to identify our preferences and priorities. As a "hometown" boy, Kevin shared with us his extensive knowledge of the various neighborhoods that allowed us to zero in on a community that really fits our lifestyle. Over the course of our six month home search, Kevin pre-screened properties, provided us details about the recent sales in the areas, and attended to all the legal and administrative issues that encompass a real estate transaction. We are now in a wonderful home in a location that we love. We highly recommend Kevin as a conscientious, intelligent and experienced realtor.
Mike and Sally Vonderscher
---
Lanny D. Lautenschlager
Relocation Buyer from Columbus, Ohio
Kevin matched our wants and needs to the perfect house and neighborhood. His preparation prior to our arrival from Ohio maximized the time we spent looking at houses and minimized the headaches of relocating to Atlanta . We feel very fortunate to have such a fantastic realtor.
Lanny D. Lautenschlager
1207 McLendon Drive
Decatur, GA 30033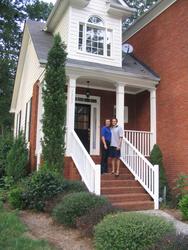 ---
Jodie and Erik Harper
Kevin was a pleasure to work with. He stuck with us even though we changed our minds several times about where we were looking to buy. He was accessible, knowledgeable, patient and never pressured us or tried to influence our decision. We would highly recommend him!